Southern Fuel & Farm Supplies Ltd supplies in association with Watsons seeds have an extensive range of grass seed mixtures, designed to cater for all reseeding situations.
All varieties contained in our Castle  and Saltire mixtures are 'First Choice' ' as published in the Irish Department of Agriculture, NIAB, SRUC and AFBI recommended lists.

Watsons Seeds enjoy a very positive relationship with a range of key grass breeders across Europe that enables them to source the best varieties possible for our Castle Mixtures and Saltire Mixtures.

Watsons Seeds position of independence enables them to take an objective view on variety selection with animal performance at the heart of their selection process. We continue to strive to improve our mixtures.
Duart (Ire) THE SPECIALIST DAIRY MIXTURE.       
• Produces outstanding energy and protein levels.
•  Duart contains a high proportion of the new generation high sugar grasses.
•  A high percentage of late perennials allows greater flexibility in the cutting date.
•  Varieties have been selected for high D values and late heading characteristics.
•  Excellent ground cover and persistency.
•  This mixture has won a number of silage competitions.
•  The silage from Duart is ideal for mixing with maize silage or wholecrop.
•  Contains the best varieties from the breeders. Germinal Holding (formerly BSH) and Barenbrug.
Duart + Clover (Ireland)
The specialist dairy mixture
Castle mixture Duart + clover produces outstanding energy and protein levels. It contains high proportions of the new generation high sugar grasses. A high percentage of late perennials, allows flexibility in the cutting date. Excellent ground cover and persistency. This mixture has won a number of silage competitions.
Christy a Dairy farmer, has noticed much improved herd milk yields and milk solids while grazing Duart swards compared to grass mixtures used by him previously.
THE VERY BEST MEDIUM / LONG TERM MIXTURE SUITABLE FOR BOTH CUTTING AND GRAZING.
• This mixture produces a dense and highly productive sward.
•  Using the top intermediates ensures heavy silage cuts.
•  Full seasonal production from the combination of first choice varieties.
•  Unique combination of grasses that exploit seasonal growth.
•  Rotational clover blend is included to maximise production and livestock performance.
•  Increased clover content available.
Available with CAST coated clover blend.
INTENSIVE MEDIUM/LONG TERM CUTTING AND GRAZING MIXTURE.
•  Contains the top later heading perennials with a high leaf to stem ratio ensuring high quality silage.
•  Edzell® is designed to persist over many years and varieties have therefore been selected with good all round winter hardiness and persistency.
•  Available with CAST coated clover blend.
THE LONG TERM GRAZING MIXTURE.
•
Designed to produce very dense swards.
•  The high proportion of permanent clover in the mixture assists in the palatability and density of the sward, improving livestock performance.
•  Increased clover content available.
Available with CAST coated clover blend
Recommended for Upland and poorer soils
•  Native upland species are included to help maintain sward density under harsher conditions.
•  Permanent clover blend ensures excellent livestock performance and assists in sward density as well as improving mineral uptake
Available with CAST coated clover blend.
Click picture for more information.
   Equestrian Mixtures     

 
Equestrian products ordered on request.
Watson's range of equestrian mixtures have been developed for a variety of purposes whether you are looking for wear tolerance, resistance to poaching, grazing or cutting potential, one of our mixtures will provide the correct sward for your specific purpose.
Pony Paddock 1   

 
Pony Paddock 2   
Saltire Mixtures     

  
The proportion of varieties and species used in every Saltire Mixture has been determined after the most careful consideration of farming conditions in Scotland. The duration of a grass mixture is mainly dependent on two factors:
The component varieties

The management regime.
m
Saltire 5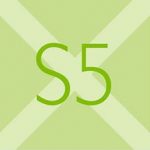 Recommended for silage and grazing
Saltire 5 is a highly versatile dual purpose mixture, which will produce two large cuts of silage and quality grazing.
Saltire 6           

     
Recommended for good yields and cuts over many years
Saltire 6 is Watson's most popular Saltire Mixture.
Contains persistent varieties ensuring good yields for cutting and grazing over many years. – See more at:
Saltire 7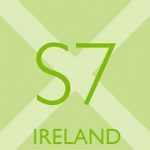 Recommended for long term grazing.
Saltire 7 is an excellent grazing mixture for long term performance.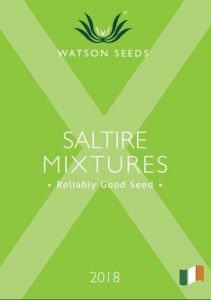 Grass Rejuvenation   

     
A full reseed is not always possible due to factors such as stocking pressures or thin top soil not permitting deep cultivation. For thin or badly poached pastures, pasture rejuvenation should be considered a viable alternative to a complete reseed.
Successful pasture rejuvenation occurs when competition from the existing sward is minimal, these conditions occur during early spring before the grass is growing too quickly or after second cut silage/early autumn when the soil temperature is still high.
First you need to assess the condition of the sward before deciding how to improve it. We at Barrett Agri are Watson Seeds seed specialist and will be happy to visit you and advise a course of action.
KEY POINTS TO CONSIDER
Subject to adequate temperature, moisture is the single most important element required for germination.

Check soil fertility status. pH should be 6-6.5, this will certainly support better clover growth.

Discuss with your seed specialist an appropriate mixture for sowing.

Depending on strategy adopted, mow, graze or spray existing sward to minimise trash in the seedbed and competition for new seed.

Pay close attention to pest control – slugs can often attack new grasses so slug pellets may need to be considered. Frit fly and leatherjacks often build up on old pastures.

Post drilling husbandry – rolling is usually advisable to ensure the seed is covered and to lock in moisture, other than when using a drill with an inverted-T slot system. Stock should be kept out of the field whilst the seedlings establish – especially sheep which are selective grazers.

Do not apply fertiliser 3-4 weeks pre-rejuvenation and only apply fertiliser post seeding once the new seedlings are visible and will compete with the existing sward when fertiliser is applied.

Do not try to rejuvenate silage swards at the beginning of the season. The young seedlings will be shaded out under a tall crop. Rejuvenation of any conservation grass is best carried out later in the season and grazed post sowing, when interplant competition is less severe from the existing mature plants.

Check for soil structure problems and compaction as this may have been a reason for the need for rejuvenation in the first place. If compaction is an issue subsoiling must be carried out.
To request information on Watsons Grass seed, Please Contact us 
For more agronomy information please contact our Team of experts.