Southern Fuel & Farm Supplies, Munster's premier supplier and innovator's of Maize seed, sprays and film.
We are delighted to launch the NEW Samco Blue plastic which is EXCLUSIVE to Southern Fuel & Farm Supplies Ltd. This Samco Blue plastic, promises easier laying for the contractor and for the farmer much more even plant break through which improves overall maize yield and starch quality.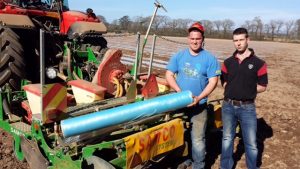 Southern Fuel & Farm Supplies Ltd, conducts our own annual independent Maize and chemical trails in Munster. We trial the best varieties, from all the top breeders, for both Maize under film and in the open. This translates into us having first hand experience of how the varieties perform and to pick the optimum variety for your site. These include varieties on the recommended list such as P7905 and Justina, and higher yielding varieties suitable for the Munster area. Contact your local area rep for variety details.
Maize is a  high yielding, high dry matter, high starch quality feed. Maize complements our grass based system in Ireland. The addition of quality Forage Maize in a mix with grass silage, or with grazed grass at spring and autumn time, has a very positive and cost effective impact on animal health and performance.
Our team at Southern Fuel & Farm Supplies Ltd have the knowledge and expertise to help the farmer, to grow and maximize their Maize crop. Where the end goal is a cost effective, high yielding, high quality Maize crop for our farmer customer.
Why grow maize?
High forage yield in a single cut. ( 60 ton / ha )
High Dry Matter, high starch forage ( 30% plus )
Extremely cost effective ( Teagasc cost and returns 2014 The cost per tonne dry matter utilised for maize is approximately €104  versus first cut grass silage at
€130/tonne DM utilised )
Slowly degradable starch
High forage intakes
Ideal buffer for spring and autumn grass
Organic Manure / Slurry utilisation
Improved animal performance and health
Consistent forage quality where grown under film
When maize is fed as part of a balanced diet it has the potential to lift milk yield and composition in the dairy herd and increase daily weight gains in beef cattle.
Maize Testimonials Recent Grower: Peter Mc Carthy West Cork.
Peter is milking 100 Holstein Friesian cows in West Cork.

The cows are spilt calving with 60% in the spring and 40% autumn.

The average yield of the herd is 1,750 gallons (7,955 litres)

Peter started growing Maize 3 years ago under Plastic, for the previous 6 years Peter grew whole crop wheat for the cows

Peter finds that with Maize he is getting more value out of an acre of ground and it is as good as wheat for keeping protein and yield up.

Peter applies slurry to his Maize ground at approx 7000 gallons/ac reducing bagged fertiliser use.

On pit management- Peter finds it is important to have a long narrow pit that is rolled well when filling. Peter also uses an additive to prevent secondary heating. e.g. Pioneer 11A44

Peter grew 19 acres of Maize in 2011 and had a great yield of 23-25t/ac. This Peter attributes to a good site and the use of plastic.

Milk solids have improved since the cows began eating Maize Silage.

Peter finishes between 40 & 50 beef cattle and finds the Maize very good for finishing his cattle.
"I am very happy with maize since I started growing it and I will continue to grow it into the future"
Long Term Customer: John Dunne Co. Cork.
John milks a high yielding 100 cow dairy herd and finishes the beef progeny.

He uses a mainly grass based system but finds Maize an integral part of the diet for both his cows and beef cattle.

He has been growing Maize successfully for many years, but for the last two years he has changed to growing Maize under plastic with excellent results.

John's 2011 results came back with an impressive Starch level of 34.5%,Dry Matter of 28.2% and Protein of 7.3% from his 24-28 Tonne crop of Benicia under plastic. (independently tested)

John comments "Plastic acts as an insurance policy to achieve quality Maize and I wouldn't grow Maize without plastic any more".

With high yielding cows (1400-1500 gallons) and an average Milk Protein of 3.5% and Butter Fat of 4.2%, John finds buffer feeding maize after calving in spring drives yield and maintains high solids.

"Maize is the perfect partner to spring grass", John comments

Finishing cattle are also fed Maize in their diet. John finds the high quality Maize gives superb daily live weight gains and an increased kill out %.

As part of growing Maize with Southern Fuel and Farm Supplies, we take soil analysis. 

This determines the pH and nutrient level of the soil. From this we calculate what nutrients are needed to grow the Maize crop. We have done this on John's farm over the years. John use on farm slurry/ manure to feed the crop, thus reducing the need for expensive bag fertilizer which John agrees is a big saving on costs.

Finally, John says, "I am extremely happy with the quality of Maize under plastic and will be growing it again for the coming year"
To request this Southern Fuel & Farm Supplies Ltd brochure in full and for more information on Maize growing, Please Contact us 
For more agronomy information regarding seed variety, rate, herbicide, fungicide, insecticide and nutrients please contact our Team of experts as these change on an annual basis.