Southern Fuel & Farm Supplies Ltd, Midleton Co Cork are distributors for Omex Liquid Fertiliser in, southern Ireland.  Usage of Solution – Nitroflo liquid nitrogen is soaring in Ireland. Because of its superior performance and indeed as a result of its competitive cost. OMEX  liquid fertiliser range can significantly increase yields and improve efficiency in all agricultural settings.

✅ Up to 20% more accurate application compared to solid alternatives.
✅ Increased tramline widths up to 36m. Increased accuracy means reduced waste.
✅ Three liquid nitrogen sources – ammonium, nitrate, urea.
✅ Reduced leaching.
✅ Decreased man-hours. One person's operation with no heavy bags.
✅ Simple application even in bad weather. As solution fertiliser can be applied when solid alternatives can't.
✅ Optional tank storage scheme for better logistics and space management.
✅ Accurate Liquid Nitrogen Application.
Where Can I Get Liquid Nitrogen?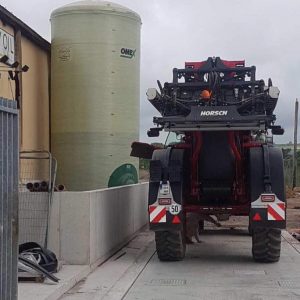 Our branch in Midleton are distributors of Omex Fertiliser.  We offer liquid nitrogen to tillage and grassland farmers for instance.
Benefits of Nitroflo Liquid Fertiliser
OMEX liquid fertiliser range includes some of the most concentrated products available. It is delivered for farmer application and offers many advantages over conventional solid fertiliser application in terms of accuracy, consistency, and ease of use.                                              
✅ Using OMEX liquid fertilisers farmers will save time, protect the environment.
✅  Comply with cross compliance requirements.
✅ Maximise crop yields. 
✅ All OMEX liquid fertilisers are supplied in bulk thus eliminating packaging and the need to recycle waste, therefore, providing major handling and storage advantages over solid fertiliser.
Potential Fixed Cost Savings
✅ Offloading with a forklift is not required
✅ Stored in a secure tank
✅ Removing the need for re-loading and carting to field
✅ No dust, no bag disposal
✅ Unused fertiliser is returned to the tank therefore no wastage
✅ Second man is not needed to re-load the spreader
Above all, most importantly it is, easy to store, simple to apply, and can be targeted with accuracy. Where traditional solid fertiliser just can't match. In addition more and more agricultural producers are buying into it's efficiency. Thus saving time, money and manpower. 
Finally, in conclusion, Nitroflo liquid nitrogen fertiliser can be efficiently and accurately applied, up to field boundaries but not beyond using standard farm machinery. Furthermore, the risk of liquid fertiliser scorch has been largely removed thanks to the use of specialist streamer bars and caps. All of the nitrogen is captured by crop thus reducing risk of leaching loss, in addition to precise targeting of nutrients. 
Consult Our Team to find out more. 
Where to find us.
📍 Google Maps 📍
Midleton –